Inspections of foreclosed homes present a particular challenge. Often, there is no source of water, no source of electricity, and no source of heat or air-conditioning. These conditions inhibit a full and comprehensive inspection of the home. Of course, the primary aspect of the home inspection is still the verification of the structural integrity.
Typically, bank owned properties are sold as is and the bank is typically unwilling to have non-functional systems made functional for the home inspection. Therefore, buying a home in foreclosure under these conditions is similar to buying a used car without the opportunity to drive the car.
Typically, foreclosed homes as well as homes sold in a short sale have deferred maintenance resulting in degraded conditions in the home. It has been our experience that foreclosed homes have defects not typically found during a typical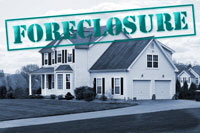 home inspection. These defects include pipe leaks which may result in the growth of mold/mildew, cracked, broken and clogged pipes, non-functioning water heaters, non-functioning heating systems, and non-functioning air-conditioning systems. Other problems more likely to be found are do it yourself expedient repairs which can sometimes result in hazardous conditions such as electrical hazards. Finally, in foreclosed homes there may be removed components or even intentionally damaged components.
Therefore, the inspection of a foreclosed home, or a home being sold in a short sale, is even more important than the inspection of a home under normal conditions. The fact that bank owned properties are not typically open for price renegotiation based upon issues found during the home inspection is not a wise reason for relinquishing your right to have a home inspection.